co-pilot the travel brand
Regular price
Sale price
$34.99 USD
Unit price
per
Sale
Sold out
✔ Vegan & Dairy-Free 
✔ Gluten-Free
✔ Soy-Free
✔ Made in the USA
Ingredients & Uses 
✔ ALL-IN-1 FORMULA - 20 vitamins, nutrients & trace minerals to support you where traveling drains you. Our advanced nutrient formula combines Ashwagandha Root, Black Chia Seed, Green Tea Leaf Extract, Rhodiola Rosea, and Piperine for plant-based power - including immune support, stress management and mental clarity. 
✔ SAY "NO" TO JET LAG - with more energy, better sleep, and de-bloating/gut health. Co-Pilot's plants combine with Vitamins A, D, E and B-Complex for energy.  Ashwagandha, Rhodiola Rosea, Piperine, L-Glycine and Selenomethionine can help keep your nervous system balanced to regulate sleeping patterns. Ashwagandha, Green Tea Extract and Black Chia promote digestive health and bloating relief.
✔ MADE BY TRAVELERS FOR TRAVELERS - We found 9 of the most common ways travel affects health.
✔ We designed Co-Pilot's Travel Supplement for ALL TRAVELERS - backpackers, vacationers, business, digital nomads, lifestyle, international, local. Made for people taking planes, boats, trains, cars, and bikes. Based in Ayurveda, our formula helps you stay calm, energized, and healthy in changing environments.
Directions for Use

✔Take Co-Pilot The Travel Brand's™ Daily Travel Supplement for up to one week before leaving home. Continue until your trip has finished. Take for up to 90 days. Continue longer if desired. 
Made with Passion & Pride
✔The capsules are made in the USA in an FDA-registered facility practicing GMP (Good Manufacturing Practices).
✔Our tin conveniently fits in your airline travel-size toiletries. Need new travel accessories or a travel gift? Our 60 pills are packed in a sleek, stylish, sustainable tin container and are great for sharing.  
✔Our company is passionate about sustainability, community & environment. We partnered with another small business/non-profit to send scuba divers on ocean clean-up dives for marine life protection.
✔Tag us @CoPilotTheTravelBrand ! We can't wait to see you try street food, hike volcanos & lie on beautiful beaches. All while knowing your health is taken care of. Happy travels! 
SAFETY WARNING 
If you are nursing or pregnant, have any disease, or are on any medication, please consult your doctor before use. Keep out of reach of children.
Consult your healthcare physician before combining with any additional vitamins, supplements or medications, including additional D vitamins, additional selenomethionine supplements, or blood pressure medication. Stop usage and contact your healthcare provider immediately if you feel any unwanted side effects. Do not place in direct sunlight. Do not get wet. Do not ingest if discolored or damaged. Do not exceed recommended daily or monthly usage.
LEGAL DISCLAIMER 
These statements have not been evaluated by the Food and Drug Administration. This product is not intended to diagnose, treat, cure, or prevent any diseases. 
Do not consume if the plastic wrap has been removed or torn. Do not take if you are pregnant, nursing, or may become pregnant. Do not take if you have any medical condition. Always consult your healthcare practitioner before starting any new dietary supplement product.
Supplements are intended for adults only. Keep out of reach of children. 
Share
View full details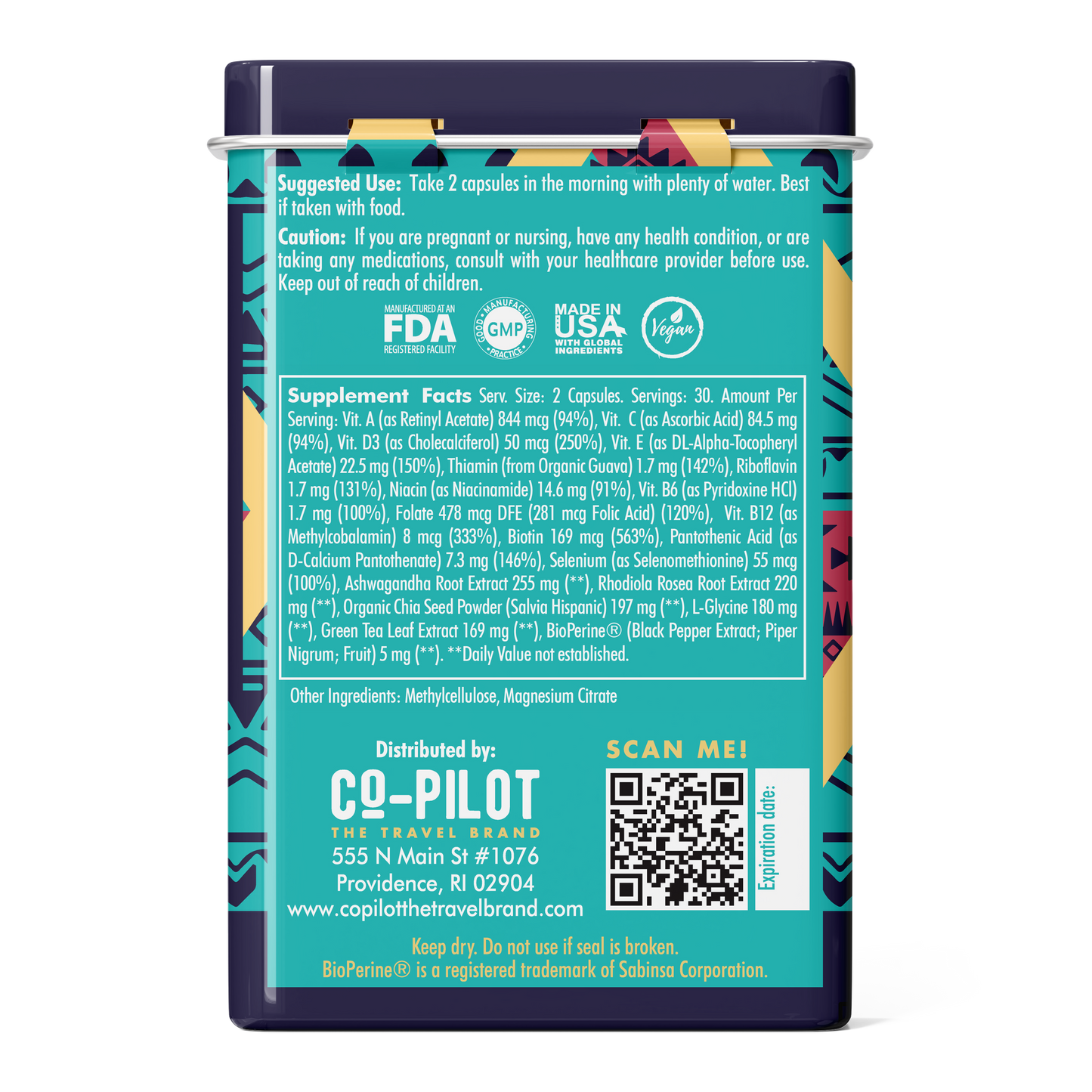 Great Service, Thanks!
I could not have been more pleased.
Saved my Bali Trip
I had a lot of discomfort after eating my first meal in Bali. I took this about 10 minutes after I began eating and I swear within the next two hours my stomach felt settled. I continued to take them every day and ate like a king! I also felt like I had a lot more energy and my mind was clear. 10/10
Would recommend!!
Can't believe the results!
I was excited to try these supplements on my travels but I couldn't actually believe the difference they made to my overall health and well-being. I felt more alert, slept better and didn't have the digestive issues which I normally experience while travelling. I'll definitely be taking Co-Pilot on my next adventure!
AMAZING!!!
I work as a flight attendant and I'm ALWAYS traveling. Since I'm always on the go, it's sometimes hard to eat healthy meals, exercise consistently or sleep well. Since taking these, I've had way more energy and feel overall better! Def recommend!
Supplements for 6 Week Backpacking Trip
I used the co-pilot daily travel supplements on my 6 week backpacking trip and they were great! I didn't take them as consistently as I would have liked to, but if you keep up with the suggested dosage and schedule, then you can really feel the difference! I think the biggest thing for me was the sleep. I slept really well throughout my trip and did not experience jet lag or travel fatigue. Thanks Co-Pilot!